Workers Leaving the Googleplex
11m 3s ● 7 Channel / 2 Channel / Single Channel HD Video ● Colour ● Sound ● 2011

Workers Leaving the Googleplex investigates a top secret, marginalized class of workers at Google's international corporate headquarters in Silicon Valley. The video documents the yellow badge-wearing ScanOps Google Books workers, while simultaneously chronicling the complex events surrounding my own dismissal from the company. The reference to the Lumière Brother's 1895 film Workers Leaving the Factory situates the video within motion picture history, suggesting transformations and continuities in arrangements of labour, capital, media, and information.
The Artist Leaving the Googleplex for e-flux
Press: MoMA Magazine, artforum, New Yorker, Tensta Konsthall interview, Rhizome, Buzzfeed, Gizmodo, e-flux, Wired, Frieze, Photographers Gallery, b2o, Dazed, der Freitag, Art F City, Gawker, Afterimage, Firstpost, Bay Citizen, Business Insider, Thought Catalog, The New Inquiry, San Francisco Bay Guardian, Concreta, ATA Film + Video Festival interview, Netzpolitik, Hacker News, Staffing Talk, HardOCP, Sohu?, Metafilter, Ebongeek, Internetactu, aqnb, PC Pro, Village Magazine, The Culturist, ARTouch
Presentations
Systems, Museum of Modern Art - New York, New York
Image Employment, MoMA PS1 - Queens, New York
Picture Industry, Luma Arles - Arles, France
To Look Is To Labor (three person show with Harun Farocki and Lucy Raven), CCS Bard/Basilica Hudson - Hudson, New York
Art in the Age of Anxiety, Sharjah Art Foundation - Sharjah, United Arab Emirates
Something More Than A Succession of Notes, Bétonsalon - Paris, France
Office Space, Yerba Buena Center for the Arts - San Francisco, California
Transmissions from the Etherspace, La Casa Encendida - Madrid, Spain
Biennale für aktuelle Fotografie - Mannheim/Ludwigshafen/Heidelberg, Germany
Techne and the Decency of Means, Kunstlerhaus Stuttgart + Theater Rampe - Stuttgart, Germany
I Was Raised on the Internet, Museum of Contemporary Art Chicago - Chicago, Illinois
The Bicycle Thieves, Para Site - Hong Kong
Big Stories need human stakes, Nieuwe Vide - Haarlem, Netherlands
Art Post Internet, Ullens Center for Contemporary Art - Beijing, China
25 of 78, Hartware MedienKunstVerein e.V. - Dortmund, Germany
Nice Work If You Can Get It, Gallery 400 - Chicago, Illinois
Biennale Internationale Design Saint-Etienne - Saint-Etienne, France
Something More Than Nothing, The Reach - Abbotsford, Canada 
FACELESS, MuseumsQuartier Wien - Vienna, Austria
Time & Motion, FACT - Liverpool, England
 Film-Work, Akademie der Künste der Welt - Cologne, Germany
what we watch, COFAspace Gallery, UNSW College of Fine Arts - Sydney, Australia
Young Artists Biennial - Bucharest, Romania
Y53K, ARTifact Gallery at UC San Diego - La Jolla, California
Aufloesung/ Neuordnung, D21 - Leipzig, Germany
Movement Materials and What We Can Do, tenstakonsthall.se (online), Tensta Konsthall - Stockholm, Sweden
Workers Leaving the Googleplex/ScanOps - Reed College - Portland, Oregon
Sekula Beyond Sekula: Andrew Norman Wilson, Thyssen-Bornemisza Art Contemporary - Vienna, Austria
Ann Arbor Film Festival - Ann Arbor, Michigan
Leaving the Googleplex, dotdotdot - Open Air Kurzfilmfestival at Volkskundemuseum - Vienna, Austria 
Modern Times, Dikeou Pop-Up - Denver, Colorado
Royal Anthropological Institute Film Festival, Cube Cinema - Bristol, England
Andrew Norman Wilson, CaroSposo, Cinémathèque Robert-Lynen - Paris, France
Image Employment, Lodos - Mexico City, Mexico
#VOICEOVER, Palais de Tokyo - Paris, France / KALEIDOSCOPE Project Space - Milan, Italy
Prospectif Cinema, Centre Pompidou - Paris, France
Movement Materials and What We Can Do, Digital Labor Conference, The New School - New York, New York
MILLENNIUM FILM JOURNAL AT 35, Anthology Film Archives - New York, New York
Dream Factory, Museum of Contemporary Art Sydney and Minerva - Sydney, Australia
Barriers to Entry, Chicago Filmmakers - Chicago, Illinois
Movement Materials and What We Can Do, Universität der Künste Berlin - Berlin, Germany
Movement Materials and What We Can Do, Photographers Gallery - London, England
Movement Materials and What We Can Do, Haus der Kulturen der Welt - Berlin, Germany
Movement Materials and What We Can Do, C21 at University of Wisconsin-Milwaukee - Milwaukee, Wisconsin 
Movement Materials and What We Can Do, I Never Read Art Book Fair Basel, Volkshaus Basel - Basel Switzerland
Movement Materials and What We Can Do, New York Art Book Fair, MoMA PS1 - Queens, New York
OK.Video Festival, Galeri Nasional Indonesia - Jakarta, Indonesia
A flote: Economies submergides i precarietat laboral, Sala d'Art Jove - Barcelona, Spain
Dream Factory, ETCAMA: The Problem of Everything - Amsterdam, The Netherlands
Dream Factory, Art Dubai - Dubai, UAE
Dream Factory, Import Projects - Berlin, Germany
Dream Factory, FACT - Liverpool, England
Sidewalk Stories - Images Festival - Toronto, Ontario
Made in America - San Francisco International Film Festival - San Francisco, California
Movement Materials and What We Can Do, Parsons The New School for Design - New York, New York
Movement Materials and What We Can Do, ZERO1 Biennial - Sausalito, California
Movement Materials and What We Can Do, American Medium - New York, New York
Movement Materials and What We Can Do, Images Festival/Art Metropole - Toronto, Ontario
Movement Materials and What We Can Do, Reed College - Portland, Oregon
INDUSTRIAL on tour, Goethe-Institute (Max Mueller Bhavan) - Kolkata, India
Gross World Product, tank.tv - London, England
Image Employment: Overtime, MoMA PS1 Sunday Session - Queens, New York
Pictures in Motion, Berwick Film & Media Arts Festival - Berwick-upon-Tweed, UK
Video Vortex, Museum of Contemporary Art Zagreb - Zagreb, Croatia
ASPECT EZ: txt + img, ASPECT - Boston MA
Artefact Festival, STUK Arts Centre - Lueven, Belgium
Speechless, Museum of Contemporary Photography - Chicago, Illinois
Lumiere and After - Cornell Cinema - Ithaca, New York
Appendix Space - Portland, Oregon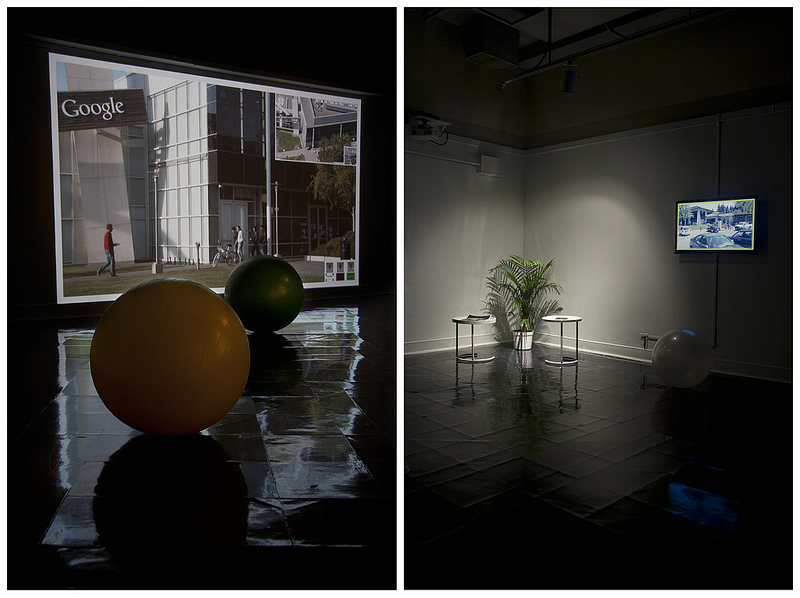 Workers Leaving the Googleplex at the School of the Art Institute of Chicago
home